George Albert Omore Magoha, Cabinet Secretary for Education, has announced a new formula that will place students who received high marks in the recently released Kenya Certificate for Primary Education (KCPE) 2021 in schools of their choice.
On Wednesday, March 30, Magoha stated that the selection process will be more equitable for all students.
Affirmative action, according to the Education CS, will be used to ensure that all national schools in the country have a national outlook in terms of representation.
The new formula will select and place all top students from across the country in a single pool before assigning them to various national schools.
He explained that integrating students from different countries into different national schools is critical to achieving a national perspective in the education sector.
Magoha also stated that parents will find out the fate of their children within the next two weeks.
"We shall ensure that all Kenyan children are given equal, fair, and just treatment including those from the slums and those from Arid and semi-arid areas. We have to ensure there is affirmative action based on geographical locations in this country.
"We will take the marks of all children, then we will get the best from all those counties and place them to different national schools distributed across the nation," Magoha stated.
He did, however, state that some students will miss out on the opportunity to attend national schools because they chose schools from only one category.
Students are expected to choose high schools at the district, county, extra-county, and national levels.
ALSO READ:
The changes to KCPE candidate placement come just days after Magoha announced that all students would be admitted to high school.
At the same time, Magoha hinted that school games would return when schools reopened. The CS stated that he is currently consulting with the appropriate stakeholders before resuming activities in both primary and secondary schools.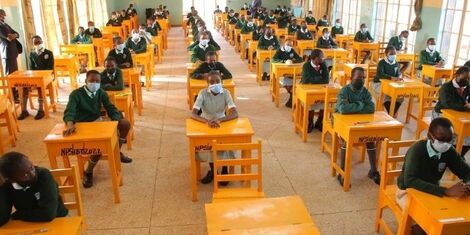 Magoha Reveals Form One Selection Formula