20 Kenya's Most Expensive Schools In 2022.
Private schools are becoming increasingly popular in Kenya, even among low-income families.
The trend, which is being exacerbated by poor quality public education, is widening the country's social divides.
Kenya's societal schisms between rich and poor are nowhere more visible than in the country's education system for children and teenagers.
The chasm is visible in the mundane daily commute to school. In Nairobi, poor children must walk a long distance to hopelessly overcrowded and under-equipped public schools. They frequently share textbooks and workstations.
Children from slightly better-off families attend slightly more comfortable and well-equipped low-cost private schools. Some believe their prospects are likely to be better than those of public-school students.
Meanwhile, the privileged ones – the children of wealthy parents – travel in style in chauffeured vehicles to well-equipped schools with better-paid teachers, substantive curricula, and a wide range of extra-curricular activities.
The super-rich of Kenya's highlands even fly their children from their ranches to school, high above the congested roads.
As a result, the most expensive schools in Kenya are sought after by the upper and middle classes, who value investing in their children's education.
20 Kenya's Most Expensive Schools
1. Kenya International School (ISK)
ISK is at the top of the list of Kenya's most expensive schools. The school has nearly 1000 students from more than 60 countries.
The institution is a non-profit organization that began as a collaboration between the governments of Canada and the United States.
The North American accredited diploma curriculum is available at ISK. New students pay a $400 admission fee as well as a one-time capital levy of $10.00 to cover capital expenses.
Tuition ranges from $16,974 for kindergarten to $32,543 for Grades 11 and 12.
2. Greensteds International school
Greensteds is a co-educational day and boarding school that offers the British curriculum to students from the early years to A level.
The school is located in Nakuru County, about 16 kilometers from Nakuru town and just a few minutes from Nakuru National Park.
Students who enroll in the playgroup level will be charged KShs 49,500. Students pay a whopping KShs 131,000 in their first and second years, while boarders pay KShs 401,500.
Boarding students in grades 12 and 13 pay KShs 848,000 per term. The boarding fee includes lodging, meals, and tuition.
3. St Andrews Turi
This school is located in Turi, a secluded area between Nakuru and Kericho. St. Andrews Turi is well-known for its excellent education and strong Christian values.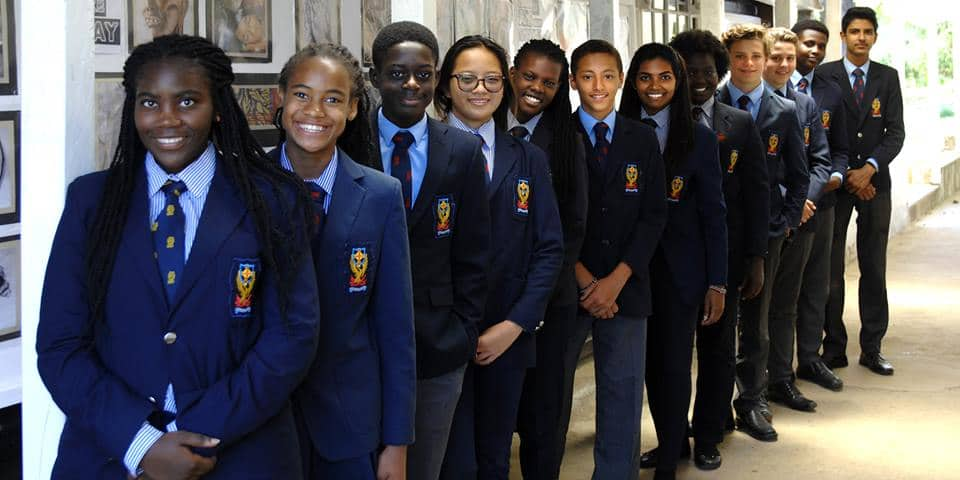 20 Kenya's Most Expensive Schools In 2022
Compassion, integrity, and courage are the institution's core values. Nursery school students pay KShs 171,000 per term, while boarding students in grades one and two pay KShs 650,000.
Furthermore, students pay a 50% deposit on term one's boarding fees, which is refundable upon departure.
In addition, the school provides a 5% discount on basic costs for second and subsequent children.
4. Brookhouse School 
Brookhouse was founded in 1981 in Langata, Nairobi. It is a co-educational independent British curriculum day and boarding school that offers early years, preparatory, and secondary education.
Brookhouse students pay an admissions fee of about KShs 45,000. Furthermore, the tuition fee per term is approximately KShs 860,000.
5. Peponi School 
Peponi School is yet another prestigious Kenyan institution. It was founded in 1989 as a first-class co-educational boarding school based on the British Independent School system on Christian principles.
Full boarders pay KShs 1,115,180 for admission, while weekly boarders pay KShs 1,053,175. Day students are charged KShs 731,510.
There are additional fees for activities such as music and any exams associated with it. At the time of admission, parents must also pay a refundable caution deposit.
6. Hillcrest International School 
Hillcrest International School is located in the Karen suburbs of Nairobi.
The school began as a pre-school in 1965 and gained international recognition in 1972.
It is a British Curriculum School that is divided into three sections: Hillcrest Primary School Hillcrest Preparatory School Hillcrest Secondary School Parents pay a tuition fee of KShs 645,900 for admission to the preparatory school, while early years students spend an estimated KShs 330,450.
Upon admission, there is also a transportation fee and a caution deposit fee.
7. Braeburn Imani International School 
Braeburn Imani School is an international co-educational school in Nairobi, Kenya. It is part of the Braeburn group of schools and is located on Mang'u Road (Exit 16A off Thika Highway).
The school caters to students aged three to eighteen. Braeburn school fees for the playgroup category are approximately KShs 189,600.
Furthermore, Grade 13 students pay a basic fee of more than KShs 1.2 million. Meals, transportation, and boarding fees are also charged.
20 Kenya's Most Expensive Schools In 2022
8. Gems Cambridge International School 
GEMS School is located in Karen and is operated by GEMS Education. The mission of the school is to inspire students to become knowledgeable leaders with a global perspective.
From kindergarten to Grade 13, it offers the British National Curriculum. Pre-kindergarten students at GEMS International School pay approximately KShs 551,204, while Grade 13 students pay Ksh 1,640,343.46.
Furthermore, the weekly boarding fee for Grade 13 students is Ksh 547,554.
9. The Banda School
Banda is one of Kenya's top British international schools, providing a British education system.
The school is located in Karen, Langata, on Magadi Road, directly across from the Nairobi National Park.
Students in the early years earn between KShs 225,000 and KShs 280,000 per year. They have various student groups, some of whom only attend school in the mornings.
Year one to eight students pay between KShs 380,000 and KShs 645,000 per term, according to the school's website.
10. Kenton College Preparatory School
This Kileleshwa-based school is also on the list of Kenya's most expensive schools. The school's goal is to provide a purposeful and happy environment with opportunities for children aged six to thirteen.
A fee structure is not available on the school's website. However, students pay about KShs 675,918 per term.
11. Rosslyn Academy 
Rosslyn Academy is located in Gigiri, just off Limuru Road. The private Christian international school, which began in Tanzania in 1947, offers the North American curriculum from pre-school to 12th grade.
Parents who want to enroll their children in this institution will have to pay KShs 1.5 million per term. They will also pay a $100 non-refundable registration fee and a $1000 deposit per child to reserve their spot.
12. German School in Kenya 
This German-speaking establishment is located on Limuru Road, directly across from Village Market in Nairobi. 
Students enjoy engaging holiday activities and sports facilities, which aid in the development of a well-rounded individual.
Primary school students in grades one through four pay 10.867,00 €, while students in grades five through twelve, as well as students in grades one and two, pay 12.737,00 €.
Parents can pay in installments at the school, and payment plans are available on the website.
13. Rusinga School 
Rusinga School is located in Nairobi's leafy Lavington neighborhood. The day school follows the British National Curriculum and is founded on Christian principles.
The curriculum at the school ranges from kindergarten to A level. The following are the school's tuition fees: KShs 133,350 for kindergarten KShs 262,500 for preparatory school KShs 481,950 for senior school KShs 521,850 for level A
14. Woodland Star International School
Woodland is a Limuru kindergarten and pre-preparatory school.
Woodland is a pre-primary and kindergarten school in Limuru, Kiambu County. The school follows the American curriculum for education.
The vision of the school is to create lifelong learners who live meaningful lives in a complex and changing world.
The fee for early learners is estimated to be $7,455 for those attending five days per week. However, the amounts differ for students who attend school for fewer days.
The primary school fee is $4,440 per term for students in years one through four, and $4,580 for students in middle and high school.
15. Stem International School 
Stem International School is located in Nairobi's Karen neighborhood. 
The school follows an American curriculum and prides itself on being a Christ-centered, 21st Century leadership school that trains innovative and problem-solving leaders for Africa. Outside of Nairobi, learners can access the programs virtually.
Students in elementary school pay $2372 per year, while students in middle school pay $2867. The fee for high school students is $ 3794.
16. The Nairobi Academy 
Nairobi Academy was founded in 1976 by Frank Betley. The British National Curriculum is taught at the school, which includes kindergarten, pre-prep school, prep school, and secondary education.
Pre-preparatory learners must pay between KShs 80,000 and 140,000 to gain admission to this institution, depending on their level.
Students in preparatory schools pay between KShs 157,500 and KShs 266,000. The fee for those in high school ranges between KShs 270,000 and 960,000.
17. Light International School 
Light International School is located in Nairobi's Karen neighborhood. The school provides programs ranging from kindergarten to A level.
The school strives to develop students who are morally upright, socially responsible, and academically competent.
The fee for kindergarten students is estimated to be KShs 120,000, and the fee for primary school students is estimated to be KShs 156,000. Secondary students pay KShs 281,000, while students in grades 11 to 13 pay KShs 445,500.
 18. Cavina School 
Cavina School is a British Preparatory School in Nairobi, Kenya that serves children aged three to thirteen.
Students who are interested pay a one-time registration fee of KShs 5,000 and a one-time deposit fee of KShs 10,000. The annual tuition fee ranges from KShs 210,000 to KShs 699,000.
19. West Nairobi School
West Nairobi School is also located in Nairobi's Karen neighbourhood. The institution's mission is to teach truths, train minds, and have an impact on the kingdom.
Prospective students must pay a $185 admission fee, with an annual tuition fee of KShs 600,000 on average. 
20 Kenya's Most Expensive Schools In 2022
20. Woodcreek School 
 Woodcreek School, located on Kiambu Road, is a progressive, multicultural, Christian value-based day school.
From kindergarten to high school, the institution provides education based on the British Curriculum.
Year one students pay KShs 184,000 per term, while year ten students pay KShs 302,500. Students at the A level pay a termly fee of KShs 637,875.
Students must also pay a refundable caution fee. The amount varies according to the class.
ALSO READ:
This list of Kenya's most expensive schools will guide you as you make the critical decision of where to enroll your child.
These schools provide high-quality education and a safe learning environment, preparing your child for the professional and business worlds of today.
20 Kenya's Most Expensive Schools In 2022